μεταχειρισμενα κοτερα
Christmas is just a week away, but it's not too late to get the pilot or aviation buff in your life something special. Whether your budget is a few dollars or a few hundred dollars, here are some gift ideas to help you finish their wish list:
iPad® Holder
krem powiekszajacy penisa Having an iPad® holder to be able to look at your iPad®, hands free, can be very handy when flying. If you are using an iPad® weather app, viewing aircraft manuals, or displaying your flow checklist while flying, you should be using an iPad® holder.
les meilleurs site de rencontre français There are many different types of iPad® holders. There are kneeboards which strap to the pilot's knee. There are yoke mounts which keep the tablet in direct view but can be time-consuming to set up and remove. A third option is a suction mount, which comes with a cradle and suction cup for mounting to the window. A fourth option, and my personal favorite, is the Rosen Monorail iPad® mount. This iPad® holder mounts onto existing Rosen Sunvisor Monorail Systems and features multi-directional adjustability, so it will never impair your visibility. It slides up and out of the way while remaining clamped to the rail, or it can be easily removed for stowage.
natürliche brust
Touch Screen Compatible Flying Gloves
Pilots need warm gloves during the winter season for preflight duties, fueling, towing the aircraft in and out of the hanger, and light maintenance. There is also a good chance that they will need to use their iPad or smart phone, and that is where this great gift comes in. The flying gloves, we found, are made from soft sheep hair that gives the fine sense of touch you need for flying. The back is made from soft knit, fire-resistant aramid fiber that stretches, so the gloves fit snugly. They remain soft and pliable when wet and you can even wash them in warm water and hand soap.
Aircraft Model
Aircraft owners like their model airplanes. You can find aircraft models in a range of sizes and prices in most pilot supply stores online. For an added touch, you can have the model customized to match your gift recipient's aircraft.
GoPro®
Being able to capture your adventures and permanently save your incredible flying experiences is an absolute must in our book. The GoPro® HERO4 is our suggestion for a solid, user friendly, recording device. This camera includes super slow motion, stunning 4k30 resolution, and can burst photos at a blistering 30 frames per second.
The HERO4 also features built-in Wi-Fi and Bluetooth that allows you to connect to the GoPro® App via your smart phone and upload your videos and pictures. This app also allows you to control the camera from your phone.
Aviation Watch
Having a sophisticated, multi-functional aviation watch is a great way to make sure a pilot is prepared for any flight. Spend the money to get a high quality watch such as the Hamilton Khaki Aviation Flight Timer Quartz watch. The Khaki Flight Timer incorporates a dedicated pilot's logbook to record details of up to 20 flights and for each of them 99 landings. The watch accommodates a comprehensive spectrum of practical and dynamic functionality such as: two digital time zones, UTC time, alarm, chronograph, countdown, flight time recorder, ISA temperature display and perpetual calendar.
Digital Weather Station
Pilots tend to be a tad obsessed with the weather, but they have a good reason to be. Their flight time depends greatly on the weather and whether it is safe or not to fly. Digital weather stations come in all sizes and prices. The basic weather stations can tell you temperature, dew point, humidity, and wind speed. More advanced ones like the Natatmo Weather Station give you real-time weather information including air quality and barometric pressure. This weather station also has smart phone capabilities and an App that allows you to view your data in graph form for real-time tracking of your environment.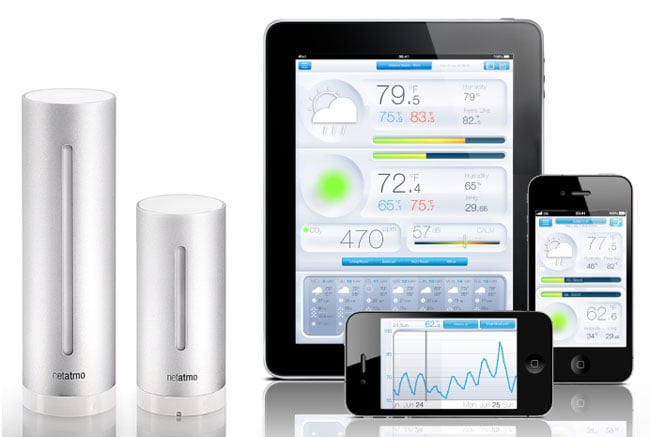 Sunglasses
Pilots are exposed to more UV-A radiation than most people which can be very harmful to eye health. Most aviator sunglasses are expensive, can dig into the temples, and can break the seal of ANR headsets. Well Flying Eyes has created headset-friendly, convertible sunglasses for pilots. These sunglasses, which are designed to be worn with a headset, offer shatterproof and scratch resistant lenses. The frames are made of lightweight, unbreakable Resilamide, which can survive any adventure.
Portable Charger
The mophie® powerstation duo is a great device that packs a punch with its charging capabilities. This device comes with a protective metal outer band and a smooth, durable finish, so it can fall and slide around the cockpit and still remain in working condition. This specific version comes with two USB ports to charge multiple devices while you are flying, so you can charge your phone and tablet simultaneously.
Satellite Hotspot
Stepping into the cockpit no longer means stepping "off the grid." The Iridium GO! portable satellite hotspot allows you to send messages and make phone calls anywhere in the world – even at 10,000 ft. Once you've set up this hotspot, you simply download the app and you are able to: text message, make phone calls, allow others to track your flight in real time, use an SOS button for emergency responders, and email.
Headset
Pilots are always in need of an extra headset, and it doesn't get any better than Bose. The Bose A20 Aviation Headset is more comfortable, provides more noise reduction, is Bluetooth enabled, and still delivers the clear audio you expect from Bose. Additional features include: a Bluetooth audio and communications interface, customizable audio prioritization control, intuitive "plug-and-play" operation, and a high-performance microphone. At just 12 ounces, it's still one of the lightest active noise cancelling headsets out there. No other headset offers this unique combination of features and benefits.
Please share this article with your friends by using the sharing buttons located below!
---
Image Credits
Image credit:  http://www.rosenvisor.com
Image credit:  http://www.gibson-barnes.com
Image credit:  http://nutsaboutkits.com
Image credit:  http://shop.gopro.com
Image credit:  http://www.hamiltonwatch.com
Image credit:  http://www.flyingeyes.biz
Image credit:  http://www.mophie.com
Image credit:  http://cdn2.bigcommerce.com
Image credit:  http://www.amazon.com