beste partnersuche stiftung warentest
bakeca incontri donne prato In order to chart the best way forward, you must understand emerging trends: what they are, what they aren't, and how they operate. Trends are indications of continuous changes within an industry sector, society, or human behavior. Fads pass. Trends help us forecast the future. Looking back on 2015 in the general aviation industry some larger trends seemed to emerge. Here are 8 trends we see making a big impact in 2016.
Going Mobile
This year is all about convenience. People want to shop, train, learn, etc. wherever and whenever they can. If it isn't easy, then it isn't convenient. Take shopping for instance. Purchasing parts started out as an instore process; there were no other options. Fast forward to today, people are ordering anything and everything they need directly from their phone.
Similar to their shopping habits, training courses are now available in any format you can imagine. While DVD's are still available, most students look to online courses or accelerated training for, you guessed it, convenience. Oh, and did I mention. They have an app for that too!
Can You Hear Me Now?
Lightspeed Aviation showed off the newest addition to its aviation headset family this year – Tango the first premium wireless aviation headset. At the heart of Tango is Lightspeed Link. Developed by Lightspeed engineers to ensure the reliable communication pilots demand, Lightspeed Link is not Bluetooth or WiFi, instead it incorporates existing technologies chosen for both signal reliability and audio quality for the aviation environment. Tango blends outstanding noise cancellation, renowned Lightspeed comfort, and wireless convenience.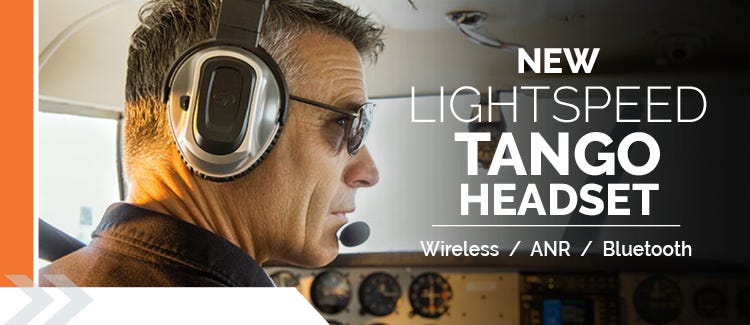 No Longer 'Coming Soon'
ADS-B, or Automatic Dependent Surveillance-Broadcast, is a cornerstone of NextGen air traffic modernization, and the FAA has mandated that aircraft operating in airspace that now requires a Mode C transponder must be equipped with ADS-B Out by Jan. 1, 2020.
ADS-B Out transmits information about altitude, airspeed, and location derived through GPS from an equipped aircraft to ground stations and to other equipped aircraft in the area. Air traffic controllers use the information to "see" participating aircraft in real time with the goal of improving traffic management.
ADS-B In, which is not part of the mandate and requires additional equipment, allows participating aircraft to receive traffic and weather information from ADS-B ground stations and nearby aircraft broadcasting their positions through ADS-B Out.
The positional accuracy and national coverage of ADS-B Out can increase the availability of VFR Flight Following services and enable more efficient IFR routing. ADS-B Out significantly improves the ability to locate a missing aircraft and provide emergency assistance when needed. Equipping for ADS-B In adds the cost-saving and safety benefits of in-cockpit weather services.
They Have Landed
In 2015, two drones inadvertently prevented firefighters from putting out a rapidly spreading California wildfire, which crossed over onto a freeway and destroyed a dozen vehicles. In the past year, pilots have been reporting sightings of drones near airports at an accelerating rate. In 2014, the FAA received 238 reports of drone sightings. In 2015, the number exceeded 600.
Many new drone owners may not realize that just because you can easily acquire a drone, it doesn't mean that you can fly it anywhere you want for any purpose. While the FAA has not established formal rules for the recreational use of drones, there are guidelines that should be followed:
Keep UAS below 400 feet
Keep UAS within line of sight
Keep drone well clear of other aircraft
Keep drone at least 25 feet away from people/private property
Contact air traffic control if flying within 5 miles of an airport
Keep drone at least 2 miles clear of heliports with published instrument approach
Keep drone well clear of emergency response efforts
Be aware of FAA airspace requirements
Don't fly under the influence
Make sure to register device
The End is Near
February marked the introduction of the Pilot's Bill of Rights 2, legislation that includes third class medical reform as well as protections for pilots facing enforcement actions. AOPA spent the next 10 months building support for the legislation in the House and Senate, and in December the bill passed the full Senate, bringing third class medical reform closer to reality than ever before.
"This is an enormous step toward getting long-awaited third class medical reforms, and we're excited that the Senate has moved so decisively to get this done," said AOPA President Mark Baker. "Without a doubt this has been a real fight, but the passage of the Pilot's Bill of Rights 2 shows that members of the Senate recognize the value of supporting the general aviation community. This legislation will help hundreds of thousands of general aviation pilots by saving them time, money, and frustration while giving them tools they need to take charge of their health and fitness to fly."
The Millennials Era
Since September 11 the industry has been reformed to suit the era we now find ourselves in. New security measures, while providing added safety, mean that we miss out on the simple things like allowing a child to visit the flight deck. Although this may seem like only a small loss, it is these little things which will spark a passion for aviation.
The security fences and entry requirements we now see at small general aviation airports, along with tighter regulations throughout the entire industry, means exposing youth to aviation is becoming even harder.
In the United States the Experimental Aircraft Association developed the Young Eagles program in 1992 to welcome young people into the world of aviation. Aviation is exciting and vital to our nation's future, and the best way to convey that message is to actually experience flight in a first-hand setting.
Since the program began, more than 1.9 million Young Eagles have enjoyed a flight from EAA's network of volunteer pilots. For many, it was the start of their journey to becoming a pilot, aircraft mechanic, air traffic controller, or many other career possibilities.
The need for information and education about the basic steps, requirements, learning ages, costs and options in regards to flight training is a must.
For those that have a desire to learn, the information needs to be readily accessible, and for those who have never considered that flying could be a reality for them, we need a way to prove its accessibility. Unfortunately, regardless of how much our flight training industry has to offer, it is not reaching its full potential if young people do not know about it.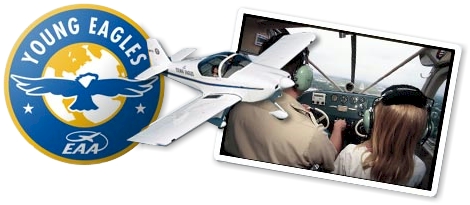 Coming To A Flight School Near You
Electric aviation has been in experimental development for years, and while there are no electric airliners on the drawing boards, or even an aircraft capable of a cross-country flight, there are many who believe electric airplanes are ready for the mainstream.
Flight schools are showing a strong interest in electric aircraft, liking the low cost and simplicity of electric flight. While a 90 minute flight might not be enough for a cross-country flight, it's longer than the typical flight lesson.
Besides the obvious cost advantage, flying an electric aircraft is smoother, quieter, and way easier to maintain. If learning to fly is on your to-do list, you might find the trainer planes of the not-too-distant future parked outside in the sun, powering up for your first lesson.
Smart Watches Hit The Cockpit
It's no secret that pilot's like their watches. Aviation watches can vary from super-minimal displays which provide a very easy read, to feature heavy watches which offer many, if not too many, distinctive features.
Basic features include two hour hands, one corresponding to the traditional 12-hour watch face on the dial and the other synchronized to a 24-hour bezel. This feature allows pilots to track flight time with the Zulu bezel and still use the local time zone while on the ground. Some of the features of the newer and "flashier" watches are multiple time zones, solar quartz movements, 1/100s chronographs, and the circular slide rule.
With the release of the Apple Watch, pilots have been focused on how it can enhance the digital in-flight experience. While the screen is much smaller than an iPad or iPhone it can still be a helpful tool in the cockpit. Rather than increasing cockpit clutter, the watch is designed to streamline the flow of information and condense it to the most important details.
Another new smartwatch is the Garmin D2 Bravo. While the price tag is much higher than the Apple Watch, the D2 Bravo is a smart, GPS watch dedicated to pilots. It has a high-resolution color display and a battery which will last 20h in a GPS mode and 6 weeks in a watch mode. It has a GPS, altimeter, compass with a HSI (horizontal situation indicator) and moving map display.  It has some cool features like navigating to the nearest airport, and complete worldwide aviation navigation database. Moreover, it can act as a remote control for Garmin's action cams.

On the "super-rich" end of the scale is the Breitling Exospace B55 smartwatch. This smartwatch can memorize the date, departure and arrival times of each flight, plus takeoff and landing times, as well as airport codes, and then save the data to your phone. It can record the time elapsed between the moment the aircraft begins to move, to the time it stops at the end of its flight.
The watch can also receive and display notifications of email, SMS, WhatsApp messages and calendar items, as well as let you know who is calling. It doesn't offer the bevy of interactive features other smartwatches like the Apple Watch, but that's clearly not the area of focus here. At a price of $8,900 this watch is obviously not for everyone.
While smartwatches haven't changed the world, they do seem to be catching on. A number of aviation app developers released Apple Watch apps this year, and Garmin's second generation D2 Bravo was a big hit this Christmas.
What trends in the general aviation industry do you see emerging in 2016? Comment below and let us know.
If you enjoyed this article, please share this by using the social media buttons below!
---
Sources: